FLAGS
Flags and banners are an indispensable part of our lives. They mark the affiliation to a football club in the stadium or represent a nation at a state reception. They are artistically hurled through the air during twirling and communicate signals and messages in shipping and the military. Even if people can communicate over long distances almost in real time thanks to satellites and broadband networks, flags remain important for the transmission of messages. The Frankfurt choreographer Paula Rosolen therefore makes these ignored means of communication the focus of her new work. She superimposes different use and sign systems of flags and creates her own sign language. The theatre becomes a field of experimentation in which – including misunderstandings and misdirection – basic principles of communication can be experienced in a playful way, valid even in times of binary codes.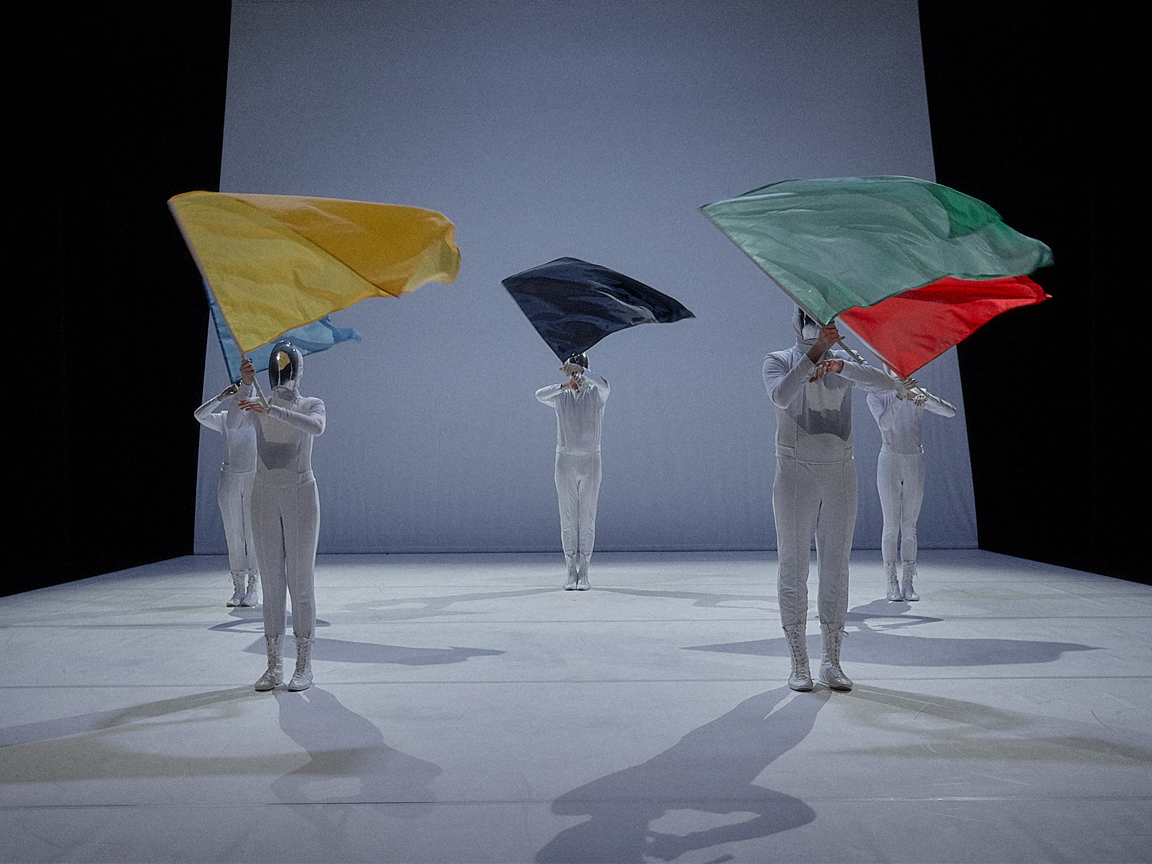 A production by Paula Rosolen/Haptic Hide in co-production with Künstlerhaus Mousonturm as part of the Tanzplattform Rhein-Main and HELLERAU – European Centre for the Arts. Supported by the NATIONAL PERFORMANCE NETWORK Co-Production Promotion Dance, sponsored by the Federal Government Commissioner for Culture and the Media. With the kind support of Quartier am Hafen, Morishita Studio/The Saison Foundation Tokyo, FAZIT-Stiftung and the Consulate General of the Argentine Republic Frankfurt am Main. Paula Rosolen/ Haptic Hide is supported by the Cultural Office of the City of Frankfurt am Main as part of the multi-year funding programme. The Frankfurt performances of "Flags" by Paula Rosolen are supported by the Federal Government Commissioner for Culture and the Media as part of the alliance of international production companies.


CREDITS:
Choreography, director: Paula Rosolen
Concept: Paula Rosolen, J.M. Fiebelkorn
Lighting design: Tanja Rühl
Developed with and danced by: Douglas Bateman, Léonard Engel, Cindy Hammer, Maria Kobzeva, Stephan Quinci
Musik: Nicolas Fehr
Costumes and equipment: Michaela Kraft
Production dramaturgy: Ingrida Gerbutavičiūtėi
PR: Agentur für Aufmerksamkeit
Duration: 1 Std. 15 Min.